Spring 2019 Student Club Highlights
Soil Judging Team
By Morgan Morris
The Soil Judging Team is a collegiate program that allows students to compete in describing, classifying and interpreting soils. Professor Gordon Rees oversees the team. In November 2018 the team took first place in the group and individual contests at regionals, competing against Humboldt State, Chico State and Fresno State. This year, Cal Poly hosted the National Soil Judging Competition from April 14-19. A total of 26 teams from universities from throughout the country competed. For more information, visit soiljudging2019.weebly.com
Association of Environmental Professionals (AEP)
By Rachel Snyder
AEP provides an opportunity for students to improve their natural resource management skills and to connect with other professionals in environmental fields and discover the depth of their personal interests. This year, AEP will join other clubs to promote sustainability on campus. Future campus events include hiking. AEP continued its involvement with the eighth annual AEP Conference, which was held in Morro Bay in April. During the conference they hosted guest speakers to talk about careers in various branches of natural resources.
Society of American Foresters (SAF)
By Morgan Morris
The Society of American Foresters (SAF) is a professional forestry club at Cal Poly that provides students with opportunities to gain growth and field experience within the forestry profession. Every year, the club attends the National Society of American Foresters convention, where members bond and learn more about current forestry issues. This past fall, 10 members of the club were able to attend the convention in Portland, Oregon. In May, Terry Baker, the CEO of the national SAF, will tour the Natural Resources Management and Environmental Sciences (NRES) Department facilities at  Cal Poly and Swanton Pacific Ranch!
Environmental Science Club (ESCape)
By Rachel Snyder
The main goal of the Environmental Science Club is to bring everyone within the Natural Resources Management and Environmental Sciences (NRES) Department at Cal Poly together. Environmental professionals, Cal Poly professors, and students all participate in activities ESCape provides for its members. Some of these activities include beach clean-ups, the NRES Student Spring Banquet, and something new to this year, ECOSLO. ECOSLO is a nonprofit organization that educates, advocates and acts to protect and enhance the natural environment and human well-being of San Luis Obispo County.
Xi Sigma Pi
By Rachel Snyder
Xi Sigma Pi is a national forestry/natural resources honor society open to students majoring in forestry and natural resources and environmental management and protection. The objectives of the society are to secure and maintain a high standard of scholarship in forest resources management education, to work for the improvement of the forest resources management profession, and to promote a fraternal spirit among those engaged in activities related to the forest resources. An invitation to join is presented to juniors who have a cumulative GPA of at least 3.0 and have completed at least 10 units of natural resource courses. New initiates must make an XSP wooden plaque and obtain on it as many signatures of current members as they can.
Logging team
By Morgan Morris
The Logging Team at Cal Poly allows members to practice forestry skills in a safe and fun way. Last spring the team hosted the Association of Western Forestry Club's (AWFC) competition. The Cal Poly team came in a close second place out of 12 teams from colleges throughout the country. Former club president Will Kraemer won first place at the Western STIHL series and continued to compete in the national competition in Milwaukee. The team also hosted the annual Cal Conclave at its new logging unit at Swanton Pacific Ranch, which the members built in fall 2018. At this competition, the team took first place against Humboldt State, Northern Arizona University, and UC Berkeley. This spring they are looking forward to competing again in the AWFC in Fort Collins, Colorado.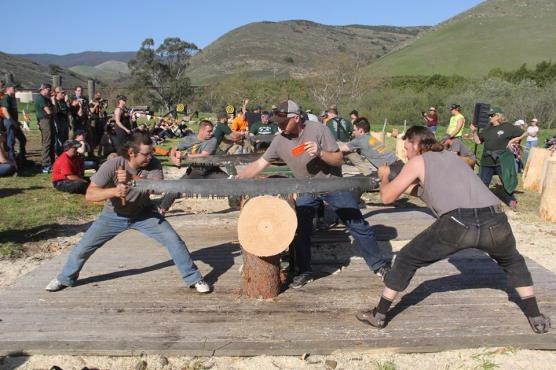 Student Association of Fire Ecology (SAFE)
By Morgan Morris
The Student Association of Fire Ecology (SAFE) was established in 2000 by a group of students at UC Davis and UC Berkeley who had a strong interest in fire ecology and other related issues. Cal Poly's chapter of SAFE works with students to expose them to a network of fire science professionals and meet with students from other universities. They are one of 13 chapters nationwide. Members of this chapter can obtain travel grants to attend the Association of Fire Ecology conferences and events that are held throughout the country.
---
For more stories, read the rest of our Spring 2019 Newsletter
Related Content