News & Events
Thanks to everyone who participated in our sticker design contest! We had stellar entries and a great voter turnout. It was a close race for first with the hand painted design by Jennifer Lee winning!!
---
---
SAF Named Small Club of the Year
In Memoriam
Natural Resources Management and Environmental Sciences Department Head Greg Brown died Jan. 2 surrounded by his wife and family after battling health issues the past few years. Brown joined the Natural Resources Management and Environmental Sciences Department in 2016, after serving in academic leadership positions at the University of Queensland, Central Washington University, University of South Australia, Alaska Pacific University, and Green Mountain College in Vermont. He was named one of the world's most impactful scientific researchers by Clarivate Analytics, which recognizes the most frequently cited researchers spanning the globe in 21 fields of sciences and social sciences, representing leading researchers whose papers have supported, influenced, inspired and challenged others. Brown was the first Cal Poly professor to be named to the list and the only professor from the CSU system to be included. "Greg made a tremendous impact during his time here — he was a deep thinker and brought a fresh and unique perspective to the department and college as a whole. I will miss his infectious enthusiasm and commitment to giving his all to everything he approached," College of Agriculture, Food and Environmental Sciences Dean Andy Thulin said. A celebration of life was hosted by the college on Jan. 14.
Spring Newsletter
There's a new online format for the Natural Resources Management & Environmental Sciences newsletter! Read the Spring 2019 Newsletter
---
New M.S. Degree Approved!
NRES gets approval for an M. S. Environmental Sciences and Management degree see more about the degree..
---
Cal Poly Wins First Place at Timber Sports Competition
Cal Poly's logging team, an intercollegiate team of male and female students involved in traditional forestry field skills, won first place at the Cal Conclave collegiate logging competition held  on Nov. 11.
Cal Poly hosted the annual Cal Conclave  at Swanton Pacific Ranch.  Our team worked hard for the last 9 weeks creating a whole new unit, ran the entire event, and also had 3 teams competing.  In all, 10 teams from 4 universities competed and the Cal Poly A team placed FIRST.
---
Cal Poly Soil Judging Team Places First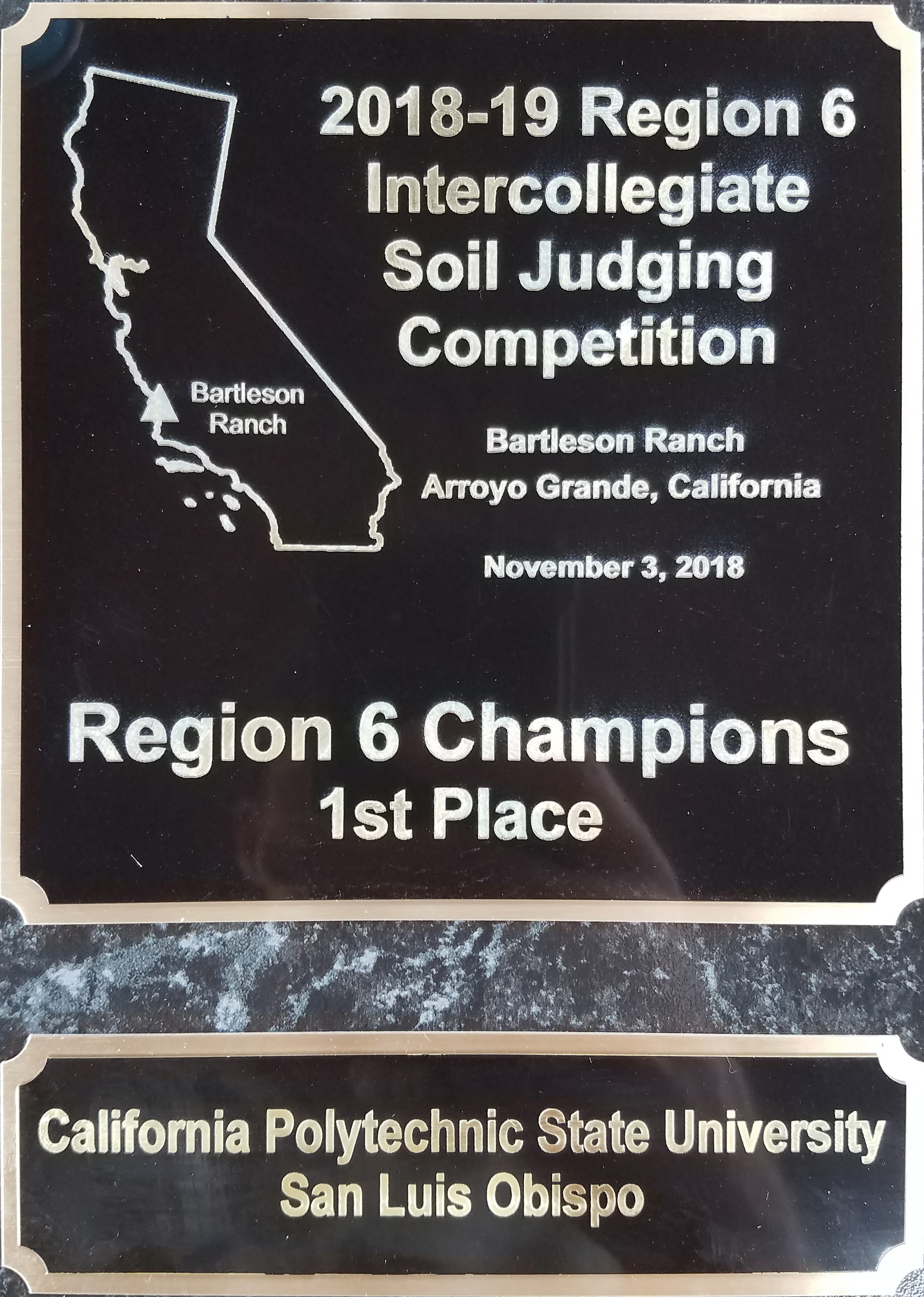 On Nov 3, 2018, Soil Judging teams from Cal Poly, Fresno, Chico, and Humboldt met in San Luis Obispo County.
Cal Poly swept the competition and took 1st, 2nd, and 3rd place!
Related Content