News & Events
Congratulations to NRES Class of 2021
Alex Flores is the 2021 Student of the Year for the Forestry and Natural Resources major. While staying busy with classes, Alex also immersed himself in many of the natural resources clubs on campus. Alex served as president of Cal Poly's Society of American Foresters Student Chapter during the 2020-2021 year. He is also finishing up his role as the student state representative for California's college SAF chapters. The Society of American Foresters is a professional club for forestry and natural resources students that is focused on networking and professional development . Additionally, Alex was also a part of Cal Poly's logging team, serving as treasurer during his junior year. When he wasn't busy studying or working with the Society of American Foresters or the logging team, he liked to catch up on sleep. Alex's most memorable times during his four years at Cal Poly were the field trips he took to Swanton Pacific Ranch and the Valencia Creek Property for different FNR classes, such as silviculture. Additionally, he enjoyed his time spent at and travelling to SAF conventions and logging team competitions. Alex's favorite logging team activity was log burling, which is where two opponents run on a log spinning it and reversing direction in an attempt to make the other person fall off. During his time at Cal Poly, Alex had the opportunity to work with Dr. Richard Cobb researching forest health -specifically stand composition changes in fir and pine forests in California. His research is part of a CSU sponsored fellowship grant, and Alex and Dr. Cobb plan to present the completed report at the end of the quarter. Alex also shared how influential Maurica Fitzgibbons was as an advisor for SAF and on the logging team. Alex not only learned from her experiences, but was inspired by her involvement in the extracurricular lives of students. When asked what he will miss the most about Cal Poly, Alex replied "I didn't realize how much I liked going to school until I realized I had to leave". Besides his curiosity, the memories of working with his classmates toward common goals is a comradeship Alex has and will continue to value. He will also miss talking to all his professors and seeing his friends His advice for incoming freshmen is simple and straightforward: just show up. Alex emphasizes that if you want to be a part of something, just continue to show up and commit. "I just kept showing up, this is how I got to know people and became invested." After graduation, Alex will be working with CalFire in the LaTour State Demonstration Forest which is located near Redding, California. He is excited to start the Forestry Aide position in June.
---
Gissella Quiroga was awarded Student of the Year for the Environmental Management
and Protection Major for the 2021 year. She has a motto that she learned from her father, "you learn something new every day, even if it is something small." It is a life lesson that she tries to keep at the forefront of her mind as she goes through life. She is an avid volleyball player, while not the most experienced camper, has a real joy for it and truly has a love for Forestry being an active member of SAF (Society of American Foresters). Despite initially feeling nervous about SAF she became a prominent member where she has made a lot of friends and connections. Gissella references three professors specifically as steering her development and standing out as ones she felt a particular connection to. She remembers Professor Miranda Canestro discussing the way she viewed the ocean and how it stuck with Gissella to hear Canestro's passion for the subject anddescription of what is seemingly something we take for granted from a perspective that  is largely landbased. Dr. Cousins is another professor who had a wealth of knowledge and love for her field, silviculture, that stuck with Gisella. The first quarter Gissella met Professor Cousins she was enrolled in both NR 206 and NR 365 with her, and felt she was such a deep store of information who was also possessed of an exceptional ability to relay what she knew to those trying to learn. The third professor that really stuck with Gissella was Dr. Richard Cobb. She has only taken NR 402 with him, but he is also her ARI fellowship mentor, and as such she has gained quite a bit from him in regard to learning opportunities and experience in forestry. She credits him with truly being a catalyst for inspiring her to pursue her Master's Degree in a field related to forest ecology, forest health or silviculture. Gissella's eagerness to learn and grow has played a vital role in earning her the ENVM Student of the Year honor.  Unsurprisingly, some of her best memories at Cal Poly stem from academic experiences. Notably the relationships she built with her peers taking NR 315 followed by NR 365 in the following quarter, their dedication to excelling in these classes lead to as she says, "Someone named room 105 of building 11, the 315 Dungeon because of the countless hours we spent in that room (it was our lab room for 315, 365 and 414)." This mentality has been a constant through Gisella's academic career at Cal Poly and is something she looks forward to implementing in her professional career when she graduates at the end of Spring 2021. She will be working for Cal Fire for the next nine months as a Forestry Aid at the Jackson Demonstration State Forest, and her future plans to attend Graduate School to attain her Master's degree starting in the Fall of 2022. Her fellow Cal Poly peers wish her the best of unneeded luck on her academic and career paths.
---
Justin Lack is the 2021 Student of the Year for the Environmental Earth and Soil Sciences major within the NRES Department. Justin is honored to be named Student of the Year and believes the award is a greater reflection of the collective support he generously received from faculty, staff, and students in the NRES department. He would like to give special thanks to his professors Dr. Nishi Rajakaruna, Dr. Chip Appel, and Dr. Bwayla Malama for the countless office hours, advising sessions, and amazing research opportunities that allowed him to flourish in his education and learning. During his time at Cal Poly, Justin was involved with clubs such as Cru, the Environmental Science Club, Association of Environmental Professionals, Peaks, Plants, & Pals, and assisted several professors with their research. Justin highly recommends incoming and current students to check out campus clubs as they allow you to learn through volunteer and leadership opportunities and connect with new friends. His most memorable experience at Cal Poly was his summer internship at Swanton Pacific Ranch. For him, this was a culminating experience as he could apply his learning from all his classes such as soil science, hydrology, forestry, geology, botany, agriculture, and GIS. He also became bonded with the ranch and his fellow interns. He hopes that more students in the future can live, learn, and work at Swanton and have similar transformative educational opportunities. Justin's Cal Poly education with NRES allowed him to explore numerous environmental and social topics that helped him discover his passion. During his time here at Cal Poly, he cultivated a deep care for environmental justice and community activism. In the future, Justin hopes to serve in the Peace Corps as an Environmental Education Volunteer in Panama and later pursue his master's degree in International Development. His long-term career goals are to continue working in Latin America as a United Nations Environment Programme Officer and partner alongside community nonprofits to support their environmental development goals; namely using agroforestry as a tool to combat climate change, and environmental degradation, and rural poverty. As of right now, Justin is looking forward to spending quality time with his family, playing soccer with his niece and nephew, and cooking homemade pizzas with his brother. Justin's time at Cal Poly has been amazing and full of accomplishments. He is excited for all the incoming students to start their journey at Cal Poly. Justin's message to his peers and incoming students is: "You have my best wishes, I believe in you!"
---
SAF Named Small Club of the Year
In Memoriam
Natural Resources Management and Environmental Sciences Department Head Greg Brown died Jan. 2 surrounded by his wife and family after battling health issues the past few years. Brown joined the Natural Resources Management and Environmental Sciences Department in 2016, after serving in academic leadership positions at the University of Queensland, Central Washington University, University of South Australia, Alaska Pacific University, and Green Mountain College in Vermont. He was named one of the world's most impactful scientific researchers by Clarivate Analytics, which recognizes the most frequently cited researchers spanning the globe in 21 fields of sciences and social sciences, representing leading researchers whose papers have supported, influenced, inspired and challenged others. Brown was the first Cal Poly professor to be named to the list and the only professor from the CSU system to be included. "Greg made a tremendous impact during his time here — he was a deep thinker and brought a fresh and unique perspective to the department and college as a whole. I will miss his infectious enthusiasm and commitment to giving his all to everything he approached," College of Agriculture, Food and Environmental Sciences Dean Andy Thulin said. A celebration of life was hosted by the college on Jan. 14.
Spring Newsletter
There's a new online format for the Natural Resources Management & Environmental Sciences newsletter! Read the Spring 2019 Newsletter
---
New M.S. Degree Approved!
NRES gets approval for an M. S. Environmental Sciences and Management degree see more about the degree..
---
Cal Poly Wins First Place at Timber Sports Competition
Cal Poly's logging team, an intercollegiate team of male and female students involved in traditional forestry field skills, won first place at the Cal Conclave collegiate logging competition held  on Nov. 11.
Cal Poly hosted the annual Cal Conclave  at Swanton Pacific Ranch.  Our team worked hard for the last 9 weeks creating a whole new unit, ran the entire event, and also had 3 teams competing.  In all, 10 teams from 4 universities competed and the Cal Poly A team placed FIRST.
---
Cal Poly Soil Judging Team Places First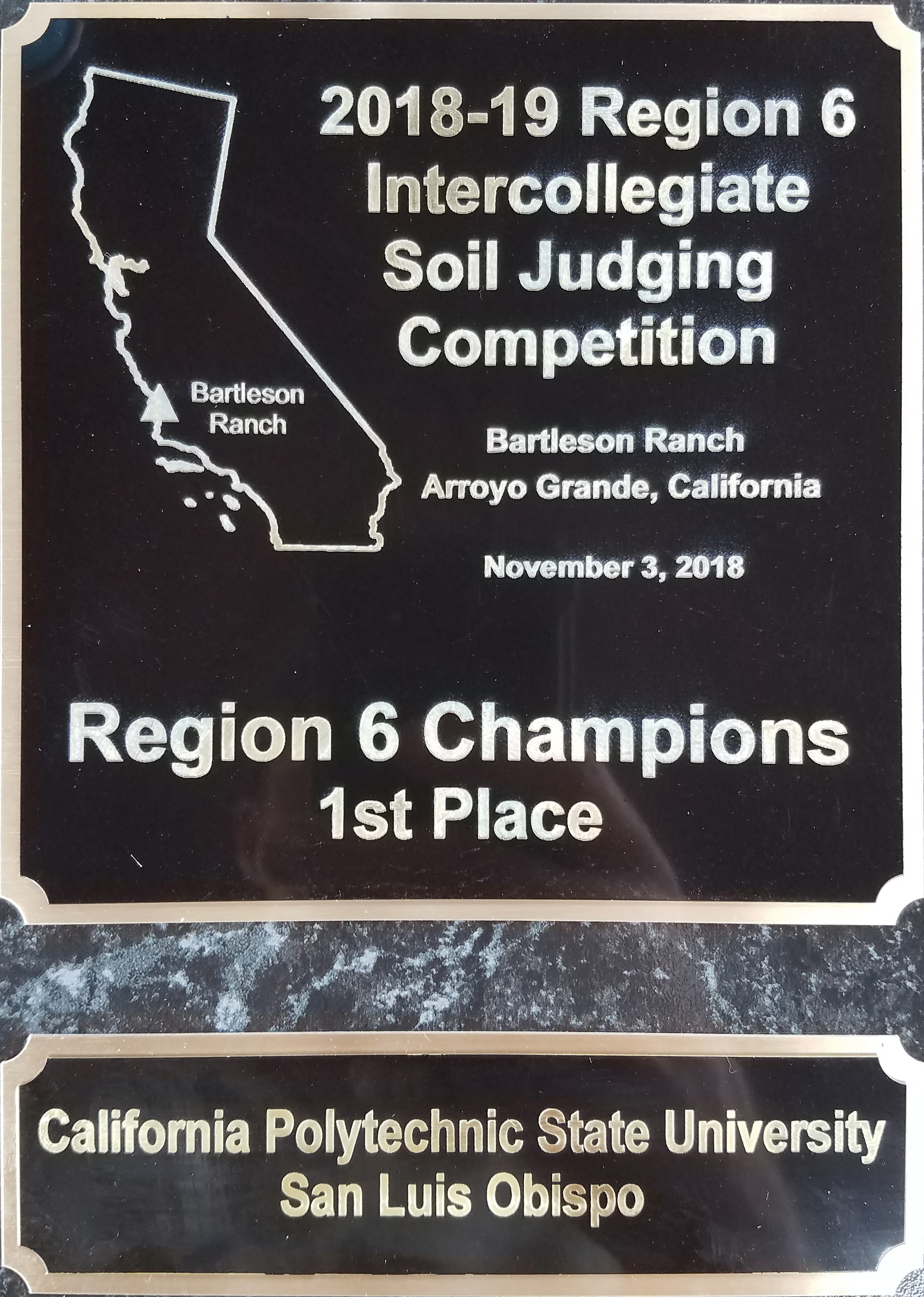 On Nov 3, 2018, Soil Judging teams from Cal Poly, Fresno, Chico, and Humboldt met in San Luis Obispo County.
Cal Poly swept the competition and took 1st, 2nd, and 3rd place!
Related Content